Almost every culture has traditions for mourning the loss of someone they love. In fact, burial grounds have given us some of the earliest insights into cultural traditions going back thousands of years. It seems that no matter who we are, or when and where we live, we all must come to terms with grieving the death of someone we love.
As Christians, we mourn with hope in the knowledge that eternal life in Jesus Christ is our final destination. But if only it was that simple! Mary and Martha grieved at the loss of Lazarus (John 11:33) and we will also weep when someone we loves dies.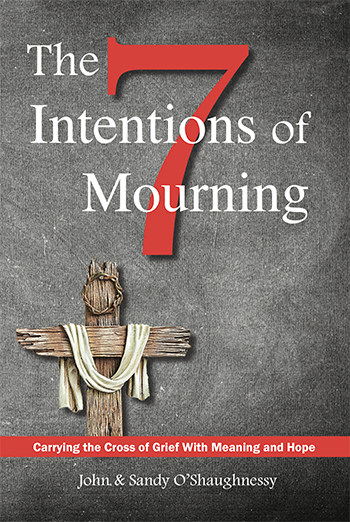 The 7 Intentions of Mourning: Carrying the Cross of Grief With Meaning and Hope is authored by John & Sandy O'Shaughnessy, founders of Good Mourning Ministry, a mission-driven healing ministry supporting Catholic parishes throughout the United States. 
This insightful and beautifully written book illustrates that when we unite our suffering with the suffering Christ, we learn that it can be redemptive and fruitful as part of His salvific mission. The seven intentions of mourning are each conscious choices, and together they present a unique pathway to healing where our grief finds a meaningful expression. Each intention is strategically positioned to help believers carry their personal cross of grief alongside the risen Lord as they discover that love endures all and that good can come from bad when there is hope.
The pages of the book provide writing space to record prayerful, practical and personal intentions — a unique approach to building bridges toward a new and different life after the loss of a loved one making it ideal for parish bereavement groups, clergy formation, grief counselors and workshops, discussion group, and people mourning the loss of a loved one.
"This powerful book draws us into the natural and supernatural dynamics of grieving, mourning, and suffering that find meaning when united to the grace of Christ's victory over suffering and death. Highly recommended to all, but especially for support groups dealing with those suffering or struggling to find a path through the pain." Eduardo J. Echeverria, Ph.D., S.T.L., Professor of Systematic Theology, Graduate School of Theology, Sacred Heart Major Seminary, Archdiocese of Detroit.
ISBN 978-1-943901-10-4 from Lectio Publishing and booksellers everywhere.