Saturday's beatification ceremony in El Salvador (January 22) memorializes the four Salvadoran Martyrs who stood up to overwhelming power in the name of God— to the point of making the ultimate sacrifice for their faith. Jesuit Father Rutilio Grande and his two lay minister companions, adolescent Nelson Lemus and elder Manuel Solórzano were murdered in a hail of bullets as they drove to join in a novena on 12 March 1977. Franciscan Friar Cosme Spessotto left his native Italy to minister among the poor of rural El Salvador; for his efforts he was murdered on 14 June 1980.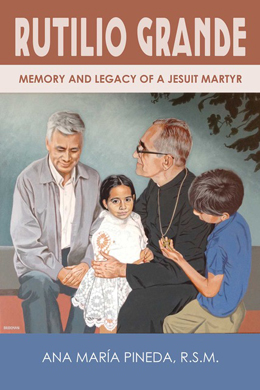 Those decades witnessed a power struggle (crescendoed by the Salvadoran civil war of the 1980s) between the entrenched powers and the freedom of the "everyman" especially the rural poor campesino to whom these four ministered. At stake was basic human freedom as described by the priest Zechariah as he thanks and praises God: "This was the oath he [YHWH, the God of Israel] swore to our father Abraham: to set us free from the hands of our enemies, free to worship him without fear, holy and righteous in his sight all the days of our life." (Luke 1:73-75)
Perhaps the best known of the four is Blessed Rutilio Grande, often linked with his good friend and protegé—and at the same time, mentor—San Óscar Arnulfo Romero. Lectio Publishing is pleased to announce, simultaneous with Grande's beatification, the publication of a new book that illuminates the person of Rutilio Grande as seen through his letters, articles, and sermons (as well as folk ballads); and those of close associates, most notable his Monseñor Romero.
Rutilio Grande, Memory and Legacy of a Jesuit Martyr, is written by Ana María Pineda R.S.M. whose family is related to that of the late martyr. She draws from family resources, reminiscences of contemporaries and students of Grande, and the archives from the University of Central America (UCA) to give an immensely-readable personal and intimate picture of just who this man was.
Notably, this book is a follow-up to her immensely popular Romero & Grande: Companions on the Journey, which explores the relationship between the two close priests in a similarly personal way. To get the full experience that Sister Ana María shares, purchase both titles together (from either page link, for a limited time) and receive a 20% discount.
We join in joyful unison with the people of El Salvador thanking and praising God as they celebrate the lives and deaths of their faithful martyrs this Saturday!