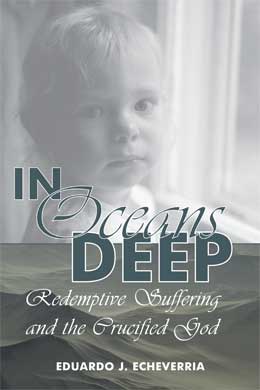 This Holy Week of Good Friday, these days leading to Easter, Lectio Publishing is pleased to announce our latest release by respected Professor of Philosophy and Theology at Sacred Heart Major Seminary in Detroit, Dr. Eduardo J. Echeverria, In Oceans Deep: Redemptive Suffering and the Crucified God.
When Dr. Echeverria's 2 year-old granddaughter, Penelope Grace, died within 36 hours of being diagnosed with a virulent strain of meningitis, her parents, and the author, questioned how to stand in her absence.
Suffering is an enigmatic fact that challenges every worldview. It is especially difficult to see any meaning or purpose in the suffering of all people, but especially young, innocent children. This book answers the questions we all ask:
Why do we feel pain and loss even in the face of a resolute belief in the goodness of a loving God?
In death and suffering, how can we still hold out hope?
Do we truly believe that a new and better life awaits us after death?
Echeverria's theological exploration seeks answers to these and many other questions about suffering and death. In his usual "leave no stone unturned" style and with a theologian's detail, the author reveals why there is not a single aspect of the Christian message that is not, in part, an answer to the question of evil.
You call me out upon the waters
The great unknown where feet may fail.
And there I find You in the mystery
In oceans deep
My faith will stand
… So I will call upon Your name.

Oceans Deep (Where Feet May Fail), Hillsong United, with permission.
Discover, download a sample, purchase your copy of In Oceans Deep: Redemptive Suffering and the Crucified God »