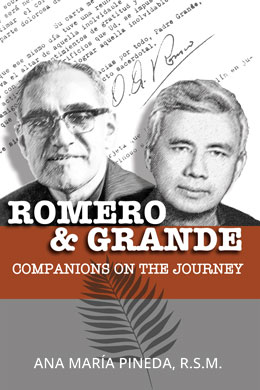 Romero & Grande

Companions on the Journey
Ana María Pineda, R.S.M.
On May 23, 2015, Pope Francis beatified Salvadoran martyr Archbishop Óscar Romero who was murdered while presiding at Mass in 1980. Three years before his murder, Rutilio Grande, Jesuit priest and friend of the Archbishop, had been murdered for the same offense—speaking up for the poor and vulnerable.

Until this book, the stories about these men have grown elusive and vague. Now, Salvadoran native Ana María Pineda once again catapults these martyrs into our collective consciences through a story that is both significantly personal and painstakingly researched during multiple trips to her homeland where she discovered surprising facts very "close to home."
"Archbishop Paglia said at the beatification of Archbishop Romero: "It is impossible to know Romero without knowing Rutilio Grande." Understanding more fully their relationship is the special strength and contribution of this book. I recommend this book as an essential part of the living tradition of prophetic leadership in the Latin American Church."
Robert S. Pelton, C.S.C.
The University of Notre Dame
"Latinos in the Americas live their faith not as individual spiritual quests, but as communitarian pathways to God. Romero and Grande unveil how commitment transforms human weakness. This book inspires us to imitate everyday holiness of spiritual leaders not as isolated heroes, but as members of what Christians call the communion of saints."
Timothy Matovina
Professor of Theology
Co-Director, Institute for Latino Studies
University of Notre Dame
| | |
| --- | --- |
| ISBN: | 978-1-943901-04-3 |
| LCCN: | 2016942390 |
| Format: | 6.14x9.21" B&W soft cover |
| Size: | 200 pages |
| Publication: | May 23, 2016 |
| Price: | $ 19.95 USD |
eSample
As your introduction to Romero & Grande, an excerpt is available for you to sample on your iPad/iBook or any other ePub reader.
.
Download Sample ePub Book »
Purchase
To purchase single or small quantities of the softcover edition either use the BUY SOFTCOVER button below to pay with your credit/debit card (faster method), or call us to place an order and pay by check through the mail. For bookstores and bulk purchases, please contact our Textbook Adoption »
Exam Copy
To purchase at reduced price an examination copy to ascertain applicability for use in your post-secondary course, click here »
More Endorsements for Romero & Grande: Companions on the Journey…
"Years of research and personal interviews went into this insightful, inspiring book. Much more than biographical, this deeply moving examination of the faith journeys of two key figures in the history of the Church come alive as great leaders and pastors, but also as profoundly human men of faith who can be companions in our own spiritual journeys."
Roberto S. Goizueta
Margaret O'Brien Flatley Professor of Catholic Theology
Boston College
Purchase
To purchase single or small quantities of the softcover edition either use the BUY SOFTCOVER button below to pay with your credit/debit card (faster method), or call us to place an order and pay by check through the mail. For bookstores and bulk purchases, please contact our Textbook Adoption »
Exam Copy
To purchase at reduced price an examination copy to ascertain applicability for use in your post-secondary course, click here »