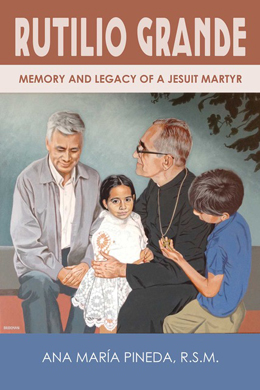 Rutilio Grande

Memory and Legacy of a Jesuit Martyr
Ana María Pineda, R.S.M.
Jesuit Rutilio Grande's martyrdom at the hands of El Salvador security forces in 1977 had a profound influence on the quest for freedom and justice for the poor and marginalized. This book adds to his legacy countless reflections and memories shared by those who knew him.

Although decades have passed since the assassination of Father Rutilio Grande during the country's civil conflict in the 1970s and 1980s, his memory and presence have become a rich legacy for Salvadorans and many others beyond the borders of this small country. This book pursues the question: Who was this man? In rich detail, the author explores Rutilio Grande's homilies, writings, and correspondence and also presents an image of the man as referenced in the sermons of Saint Óscar Romero.

Following Rutilio's life journey and conducting copious personal interviews enabled the author to gather the voices of those who knew Rutilio Grande and whose memories are still vivid and vibrant. This book adds to shared stories, photos, and remembrances, his words sung in hymns and folk ballads, his image painted on colorful murals on neighborhood walls throughout El Salvador—all of which speak of Rutilio Grande, a man of the people.
| | |
| --- | --- |
| ISBN: | 978-1-943901-20-3 |
| LCCN: | 2021953548 |
| Format: | 6.14x9.21" B&W soft cover |
| Size: | 140 pages |
| Publication: | 22 January 2022 |
| Price: | $ 16.95 USD |
Purchase
To purchase single or small quantities of the softcover edition either use the ADD TO CART button below to pay with your credit/debit card (faster method), or call us to place an order and pay by check through the mail. For bookstores and bulk purchases, please contact our Textbook Adoption »
This title can be purchased as an eBook through Apple iTunes, and can be read via the free iBooks (now Apple Books) app on Apple iOS and Mac OS X devices.
This title can be purchased as a Kindle Book through Amazon.com, and can be read via the free Kindle Reader available through Amazon.com.
Book Set Combination Offer
Lectio offers discounted pricing for combination purchases of book sets consisting of two related books. Buy the Romero/Grande combination of Rutilio Grande + Romero & Grande—click the BUY SET button below—and receive a 20% discount on the set (only for a limited time, and only on this Lectio Publishing website).
BUY APPLE E-PUB
BUY KINDLE BOOK
Exam Copy
Faculty members, to purchase at reduced price an examination copy to ascertain applicability for use in your post-secondary course, click here »