John & Sandy O'Shaughnessy, GC-C, MAPM
Co-Founders
Good Mourning Ministry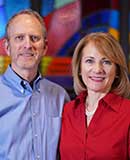 John and Sandy O'Shaughnessy are the co-founders of Good Mourning Ministry, a Catholic bereavement organization. Both experienced the depths of grief and trans- formation through mourning.

John is a Certified Grief Counselor (GC-C) and published author of his own riveting true story of amazing love, to the dead end of grief and a return to hope. The Greatest Gift–A Return to Hope was published in 2007 and took John out of the corporate world into supporting the bereaved. He volunteered and worked for seven years at a non-profit bereavement support organization where he was grief group facilitator, workshop speaker, grant writer, and was on the board of directors for three years. In 2012 John finished his first novel. Encounter is a story of a young man's extraordinary encounter, somewhere between this life and the next, with a mother whom he thought he lost forever, yet somehow found again. This is John's fifth book.

Sandy is Director of Religious Education at Our Lady of Good Counsel Parish and holds a master's degree in Pastoral Ministry/ Bereavement (MAPM). She feels "called" to minister to those who mourn. Sandy lost her mother in 1999, months after being paralyzed in a car accident. Her husband, David, died a year later. She became an "only parent" to two young children.

Together, John & Sandy have four children: Eric, Collin, Morgan, and Ryan; a daughter-in-law Kim; and in 2018 they were blessed to welcome granddaughter Claire into the world. Our Lady of Good Counsel in Plymouth, Michigan is John & Sandy's home parish.