Eduardo J. Echeverria, Ph.D., S.T.L.
Professor of Philosophy and Theology
Sacred Heart Major Seminary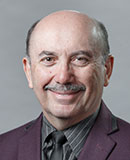 Eduardo J. Echeverria is Professor of Philosophy and Systematic Theology in the Graduate School of Theology at Sacred Heart Major Seminary, the Archdiocesan seminary of Detroit, where he has taught since 2003. He is also a Research Fellow in the Theology Faculty of the University of the Free State, South Africa.

Professor Echeverria obtained his Licentiate in Sacred Theology from the Pontifical University of St. Thomas Aquinas (Angelicum) in Rome. He received a doctorate in philosophy from the Vrije Universiteit, Amsterdam, the Netherlands.

Professor Echeverria is the author of Divine Election: A Catholic Orientation in Dogmatic and Ecumenical Perspective (Eugene, OR: Pickwick Publications, 2016); Berkouwer and Catholicism, Disputed Questions (Leiden/Boston: Brill, 2013), Vol. 24, Studies in Reformed Theology; "In the Beginning…" A Theology of the Body (Eugene, OR: Pickwick Publications, 2011); Dialogue of Love: Confessions of an Evangelical Catholic Ecumenist (Eugene, OR: Wipf & Stock, 2010); and Slitting the Sycamore, Christ and Culture in the New Evangelization, Monograph, 87 pp., No. 12, Christian Social Thought Series (Grand Rapids, MI: Acton Institute, 2008). Kindle edition, revised edition, Smashwords, 2012. A noted scholar, speaker, and teacher here and internationally, he is also the author of dozens of articles.

Eduardo is a member of the American ecumenical initiative, Evangelicals and Catholics Together.