Resurrection Power! Spiritual Solutions for An Anxious Age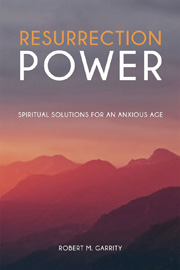 Entirely practical in nature, though inspired by timeless truths from philosophy and theology, psychology, and law, Resurrection Power! provides readers with useful thoughts about living every day with a supremely-positive attitude and strength. St. Paul identifies this as "the power of Christ's resurrection"—given for victorious and joyful living in this life and in the next.
Author Robert M. Garrity underscores that Resurrection Power is not a force that relieves us of all pain or removes all suffering from our lives, but really can help us to rise above our daily problems, burdens, and difficulties. #resurrection
This book is recommended for Basic Theology, Soteriology, and Resurrection courses as well as church libraries, book clubs, retreat houses, and anyone seeking practical solutions for relieving the stresses of daily life.
Order Now »
Request Desk Copy »
Request Review Copy »
Contact Textbook Adoption Office »