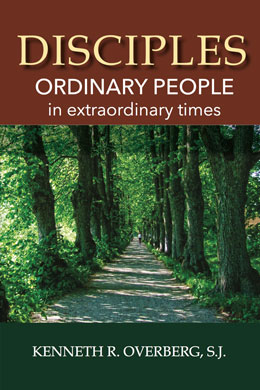 Disciples

Ordinary People in Extraordinary Times
Kenneth R. Overberg, S.J.
Disciples, a compilation of articles written by Fr. Overberg, points to the various facets of how discipleship is revealed. There are situations in one's life that will define our humanity and our call as Christian. Fr. Overberg takes on real-life current topics, such as AIDS, suffering, poverty, justice, the death penalty, and shows how Christ is alive in our world. He shows how we can be Christ to the less fortunate and marginalized in our society.

"Way" is a very rich term in the Bible. In the Hebrew Scriptures, it sometimes speaks of God's will and wisdom. In the Fourth Gospel, Jesus calls himself "the Way" (John 14:4-6). Early Christianity was simply called "The Way." Disciples helps readers appreciate what the life of discipleship—the Way—means in daily life today: call, commitment, community, challenge. Disciples offers an excellent opportunity for prayer, discussion, and action. It is intended to enrich individuals and groups such as RCIA, St. Vincent de Paul, Just Faith, Christian Life Communities, and parish retreats.
"Fr. Ken Overberg writes from and speaks to the heart that longs to know God—and thus he is willing to challenge our long-cherished idols and complacent ideas about God. With a rare combination of theological clarity and pastoral wisdom tested in a lifetime of generous presence to his students, colleagues, and fellow adult pilgrims, Overberg's vision of discipleship flows from Jesus' call to participate in the ongoing wonder of incarnation, the creative process "of God's eternal longing to become human." Jesus is not "God's second thought," a divine rescue mission, and neither are we! Here the measure of all things human and divine is life itself and the freedom for love. And indeed, "What a difference this makes for our relationship with God!" By gently reordering our imaginations toward the God of life and love, Disciples gives us reason to hope, and courage to follow."
Christopher Pramuk
Chair of Ignatian Thought and Imagination; Associate Professor of Theology
Regis University
"This slim, seemingly ordinary volume shines with extraordinary wisdom. Like his Jesuit confrère, Pope Francis, Kenneth Overberg has a gift for drawing our eyes to Jesus—calling us to take up the radical demands of discipleship, inspired by the sheer joy of following him. Short, reflective chapters move from the birth of our savior to the end of our days—full of insights that light the imagination, spark discussion, and lead into prayer."
Edward P. Hahnenberg, Ph.D.
Jack and Mary Jane Breen Chair in Catholic Systematic Theology
John Carroll University
| | |
| --- | --- |
| ISBN: | 978-1-943901-08-1 |
| LCCN: | 2018955945 |
| Format: | 6.14x9.21" B&W soft cover |
| Size: | 112 pages |
| Publication: | September 11, 2018 |
| Price: | $ 12.95 USD |
Purchase
To purchase single or small quantities of the softcover edition either use the BUY SOFTCOVER button below to pay with your credit/debit card (faster method), or call us to place an order and pay by check through the mail. For bookstores and bulk purchases, please contact our Textbook Adoption »
Exam Copy
To purchase at reduced price an examination copy to ascertain applicability for use in your post-secondary course, click here »
More Endorsements for Disciples: Ordinary People in Extraordinary Times…
"In this book Kenneth Overberg S.J. shows a refreshing capacity to combine excellent scholarship and readability. A consummate teacher, Kenneth starts each chapter by posing the relevant questions and challenging the reader to pause and reflect, before he presents possible ways of addressing the topic at hand and offering, as well as analyzing in many cases, Ecclesial responses. An inspiration to all of us, Disciples challenges us to embrace, and live with integrity, the message of Jesus in these: Extraordinary Times."
Barbara Fiand
SND de N (and Retreat guru)
Purchase
To purchase single or small quantities of the softcover edition either use the BUY SOFTCOVER button below to pay with your credit/debit card (faster method), or call us to place an order and pay by check through the mail. For bookstores and bulk purchases, please contact our Textbook Adoption »
Exam Copy
To purchase at reduced price an examination copy to ascertain applicability for use in your post-secondary course, click here »