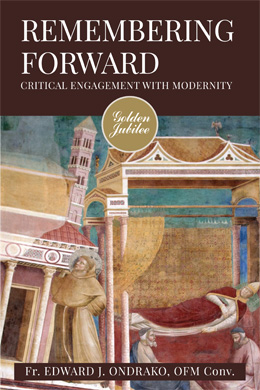 Remembering Forward

Critical Engagement with Modernity
Edward J. Ondrako
Remembering Forward is a collection of twenty-four reflections each of which may stand on its own. Between Pentecost 2021 and Pentecost 2022, the year of Ondrako's golden jubilee of Franciscan priesthood, he discovered a definition of the gift of modernity as cheering, weeping or a blend of both or shadow seers. These reflections cumulatively commemorate changes during fifty years as they speak in the language of tradition as traditio.

In two equal parts, Fr. Ondrako employs memory as not merely reproductive but productive, imaginative and creative looking forward, because St. Bonaventure's works are imbued with the theme of the work of Christ as always going forward. In Part One, I recall the foundation of the Franciscan tradition in pre-modernity that has a lasting bearing on modernity and the twilight of modernity. In Part Two, using the comparative method of St. Bonaventure and Bl. John Duns Scotus, he explores deeper into their commonalities with St. John Henry Newman.
| | |
| --- | --- |
| ISBN: | 978-1-943901-27-2 |
| Format: | ePub (flowable) |
| Publication: | 15 September 2022 |
Purchase
This title can be purchased as an eBook through Apple iTunes, and can be read via the free iBooks (now Apple Books) app on Apple iOS and Mac OS X devices.
This title can be purchased as a Kindle Book through Amazon.com, and can be read via the free Kindle Reader available through Amazon.com.
BUY APPLE E-PUB
BUY KINDLE BOOK