David R. Carlin, MA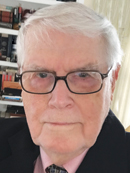 David R. Carlin is a retired professor and retired politician. He and his wife Maureen live in Newport, Rhode Island. They have three adult children and four grandchildren.

David was born and grew up in the old industrial city of Pawtucket R.I., sometimes called "the birthplace of the American Industrial Revolution." He graduated from a Christian Brothers high school in Pawtucket and from Providence College (history), a Dominican college. He later received graduate degrees from the University of Notre Dame (philosophy) and the University of Rhode Island (sociology). He taught philosophy and/or sociology at the college level for more than fifty years, the last thirty-four of these at the Community College of Rhode Island, retiring in 2018.

He spent twenty-four years in elective office, twelve years on the school board of Newport R.I. and twelve years as a Democratic member of the Rhode Island Senate, two of these as the Senate's majority leader. In 1992 he was the Democratic candidate for the US House of Representatives in his district, losing to the pro-choice Republican incumbent. Carlin was a pro-life Democrat. Eventually, as he became convinced that the Democratic Party was evolving into an anti-Christianity party, he abandoned the party. He is now a political independent who usually votes Republican, even though he has little love for the Republican Party.

Since the 1980s he has written hundred of opinion essays for a great variety of magazines, newspapers, and websites. These essays have had to do with politics, religion, and culture, and mostly (but not always) they have appeared in Catholic publications. For more than ten years he wrote a weekly column for Commonweal, and for the past half-dozen years he has written a biweekly column for the website The Catholic Thing.

He has written three other books, The Decline and Fall of the Catholic Church in America and Can a Catholic Be a Democrat? (both of these published by Sophia); and The Rise and Fall of Liberal Protestantism (Wipf & Stock).