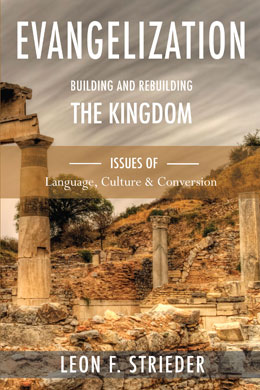 Evangelization: Building and Rebuilding the Kingdom:

Issues of Language, Culture, and Conversion
Leon F. Strieder
Evangelization isn't about winning the argument; it's about winning hearts. Evangelization and conversion are pertinent topics, yet often many liturgical studies lack a good sense of the history of evangelization, and many historical studies lack a liturgical understanding of the methods of conversion. Many of these studies talk about early Christianity or the spread of Christianity to England or Germany or the mission to the New World or the Far East or Africa, yet without much insight as to what was operative in the methods of conversion and evangelization.

While there are many good studies in these areas, an overview with some profundity concerning the initial encounters of evangelization in the various centuries and cultures is yet to be done. We often underplay the importance of translations and how difficult it is to faithfully express texts. Likewise some understanding of the philosophical underpinnings present in the earlier work of evangelization—and with new underpinnings now needed to speak to our times—often is not recognized. Finally, in many recent ecclesial documents that deal with evangelization there is only a cursory presentation of history. This book is intended to bridge such gaps.
| | |
| --- | --- |
| ISBN: | 978-1-943901-02-9 |
| LCCN: | 2016932121 |
| Format: | 6x9" B&W soft cover |
| Size: | 492 pages |
| Publication: | 1 March 2016 |
| Price: | $ 46.95 USD |
eSample
As your introduction to Evangelization: Building and Rebuilding the Kingdom:, an excerpt is available for you to sample on your iPad/iBook or any other ePub reader. [Download free ePub reader for Windows »]
Download Sample ePub Book »
Purchase
To purchase single or small quantities of the softcover edition either use the BUY SOFTCOVER button below to pay with your credit/debit card (faster method), or call us to place an order and pay by check through the mail. For bookstores and bulk purchases, please contact our Textbook Adoption »
Exam Copy
Faculty members, to purchase at reduced price an examination copy to ascertain applicability for use in your post-secondary course, click here »