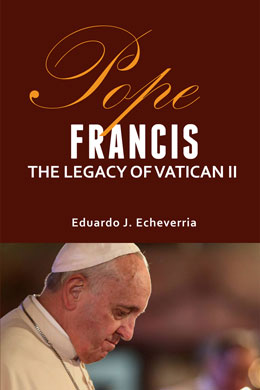 Pope Francis

The Legacy of Vatican II
Eduardo Jose Echeverria
This greatly needed book frankly admits that at times the man Jorge Mario Bergoglio, who is now Pope Francis, shoots from the hip, expressing himself in ways which discourage faithful Catholics even while attempting to encourage them. I hope the Pope is listening, because he does not seem to recognize that he has this problem. Yet he could not have had a more careful, honest, or sympathetic expositor than Eduardo Echeverria, whose appreciative discussion deepens, strengthens, and enlarges our understanding not only of Pope Francis, but of the papal magisterium as a whole and the manner in which it develops. The author demonstrates beyond a shadow of a doubt that contrary to the fears of some critics and the hopes of some admirers, the Pope is not trying to "change Catholic doctrine," but to find new ways to explain it to the world. Profoundly committed to the deposit of faith that he is charged to uphold, he is in continuity with his recent predecessors and the Second Vatican Council, zealous to promote the New Evangelism, and alive to the reality of spiritual warfare. A special strength of the book is the respect with which it treats Protestants, even while clear about the difficulties and delicacies of bridge-building.
J. Budziszewski
University of Texas
author of
Commentary on Thomas Aquinas's Treatise on Law
This is a very timely and much-needed book. Informed by a careful study of the Pope's speeches and writings, Professor Echeverria presents a Francis who no doubt differs in many ways from his two remarkable predecessors, but nonetheless fully shares their mission. Like John Paul II and Benedict XVI, he hears the call of the Second Vatican Council to offer the Catholic faith, whole and entire, to a needy but often hostile world. Whatever their view of Pope Francis, readers of this book will learn much about him that they will want to know.
Bruce D. Marshall
Lehman Professor of Christian Doctrine
Perkins School of Theology
Southern Methodist University
| | |
| --- | --- |
| ISBN: | 978-0-9898397-9-2 |
| LCCN: | 2015944526 |
| Format: | 6x9" B&W soft cover |
| Size: | 256 pages |
| Publication: | June 27, 2015 |
| Price: | $ 29.95 USD |
eSample
As your introduction to Pope Francis, an excerpt is available for you to sample on your iPad/iBook or any other ePub reader.
.
Download Sample ePub Book »
Purchase
To purchase single or small quantities of the softcover edition either use the 'Buy' button below to pay with your credit/debit card (faster method), or call us to place an order and pay by check through the mail. For bookstores and bulk purchases, please contact our Textbook Adoption »
Desk Copy
To purchase at reduced price a desk copy to ascertain applicability for use in your post-secondary course, click here »
More Endorsements for Pope Francis: The Legacy of Vatican II…
This important study is a gift to so many who have been puzzled by the diverse assessments—often driven by selective citations and ideologically biased depictions—of Pope Francis's leadership. Eduardo Echeverria carefully explores the complex record of what Francis has actually said and done thus far, in the context of a concise narrative of post-Vatican II developments. Echeverria's concluding account of the Pope's commitment to "spiritual warfare" offers profound counsel for all of us who want to contend for the faith without resorting to partisan engagement in "culture wars."
Richard J. Mouw, PhD
President Emeritus
Professor of Faith and Public Life
Fuller Theological Seminary
Eduardo Echeverria, one of the liveliest and most insightful thinkers practicing the ancient craft of theology in the United States today, sheds new light on the Catholic Church and Pope Francis at this challenging moment in history.
George Weigel
Distinguished Senior Fellow
Ethics and Public Policy Center
Both Catholics and Protestants are asking what direction Pope Francis's papacy will go, and what it means for Catholicism's working out of Vatican II. Is the Church moving away from the directions in which the last two popes have steered it? Is Francis pointing toward a different interpretation of the Council? There are few theologians better equipped to answer these pressing questions. Professor Echeverria is a master of the Council documents, their recent interpreters, and the last three popes. He is also impressively informed by important Protestant theologians. This is a must-read for those wanting to learn about the future of Christianity.
Gerald R. McDermott
Jordan-Trexler Professor of Religion
Roanoke College
Purchase
To purchase single or small quantities of the softcover edition either use the 'Buy' button below to pay with your credit/debit card (faster method), or call us to place an order and pay by check through the mail. For bookstores and bulk purchases, please contact our Textbook Adoption »
Desk Copy
To purchase at reduced price a desk copy to ascertain applicability for use in your post-secondary course, click here »