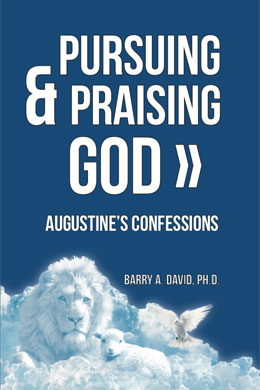 Pursuing and Praising God

Augustine's Confessions
Barry A. David
St. Augustine is one of the most important writers in Christianity, along with St. Paul, Thomas Aquinas and the evangelists. What makes Augustine unique is that even though he is a proclaimed "Doctor of the Church," he is a regular guy.

Augustine's Confessions is a classic in Western literature yet easy to read. On one level, Confessions is obviously Augustine's pull-no-punches autobiography; at the same time it is Everyman's search for truth, beauty, and goodness—meaning—in life. Confessions is Augustine's journey from paganism to Catholicism; the last section then professes the value of religion and Catholicism specifically—an elucidation of God's Creation of the world/universe, an exegesis of the Biblical six days of Creation.
* * * * *
This inspiring new study of Augustine's Confessions draws on the author's own thirty-year journey of deep reflection on this text. The author's affable style and deep passion for the text makes the reader feel immediately at home, anxious to unpack Augustine's timeless story of the restless heart's quest for God. Deep, insightful passages often alternate with thoughtful—sometimes hilariously witty—suggestions for musical pairings. For the Augustinian newcomer or seasoned scholar, Pursuing & Praising God offers good fruit and fresh new insights.
Thérèse Scarpelli Cory
John and Jean Oesterle Associate Professor of Thomistic Studies
Department of Philosophy
University of Notre Dame
Pursuing & Praising God is a welcome addition to Augustinian studies. Both novice readers and scholars will appreciate Barry David's exploration of the intellectual and moral scope of "confession" as Augustine understood it.
John Peter Kenney
(author of
The Mysticism of Saint Augustine: Rereading the Confessions
)
Professor Emeritus of Religious Studies
St. Michael's College.
| | |
| --- | --- |
| ISBN: | 978-1-943901-12-8 |
| LCCN: | 2019950666 |
| Format: | 6.14x9.21" B&W soft cover |
| Size: | 300 pages |
| Publication: | 1 November 2019 |
| Price: | $ 19.95 USD |
Purchase
To purchase single or small quantities of the softcover edition either use the ADD TO CART button below to pay with your credit/debit card (faster method), or call us to place an order and pay by check through the mail. For bookstores and bulk purchases, please contact our Textbook Adoption »
Exam Copy
Faculty members, to purchase at reduced price an examination copy to ascertain applicability for use in your post-secondary course, click here »
More Endorsements for Pursuing and Praising God: Augustine's Confessions…
Drawing from over three decades of careful study of the Confessions, Dr. Barry David provides a fresh and integrated book-by-book interpretation of all 13 books of Augustine's masterpiece. Along the way, David offers answers to questions that have befuddled readers of Confessions for centuries, especially those concerning the work's overall unity. David rightly identifies as one of the Confessions' chief unifying threads Augustine's robust notion of confessio and his desire to bring the reader into a properly trinitarian relationship with God. Pursuing & Praising God is written in an accessible yet erudite style and will enrich generalist and specialist alike.
Michael P. Foley
Associate Professor of Patristics
Great Texts Program
Baylor University
Barry David's Pursuing & Praising God: Augustine's Confessions is a valuable contribution to understanding Augustine's thought. It is at once a sustained meditation on the central themes of confessio (praising, knowing, and loving God) and vestigium (the ontological and spiritual presence of God to the human person) and a detailed analysis of the text, chapter by chapter. As a result, the book has something to offer both the relative newcomer to Augustine's thought and the more advanced scholar. The central themes articulate the complex, living relations between the human being and the trinitarian God of love as Augustine discovers them himself and openly and generously shares them with the reader. In short, Augustine's Confessions and Dr. David's thorough analysis of it speak to what it is to know of God and, more importantly, what it is to live in God. At the end of each chapter, Dr. David supplements his own insightful interpretation of the text with rich bibliographical materials for further study.
Montague Brown
Professor of Philosophy
Director, Institute for Saint Anselm Studies
St. Anselm College
Good books deserve to be read again and again. By any measure, Augustine's Confessions belongs in the category of books that reward careful readers. Barry David's fine new commentary will be of great service to those pondering this classic text. Of special value is his sustained concentration on Augustine's multivalent notion of a 'confession.'
Joseph W. Koterski, S.J.
Department of Philosophy
Fordham University, Bronx, N.Y.
Purchase
To purchase single or small quantities of the softcover edition either use the ADD TO CART button below to pay with your credit/debit card (faster method), or call us to place an order and pay by check through the mail. For bookstores and bulk purchases, please contact our Textbook Adoption »
Exam Copy
Faculty members, to purchase at reduced price an examination copy to ascertain applicability for use in your post-secondary course, click here »